As a homeowner, you want your home to be safe and secured from any unwanted guests and intruders, but traditional door locks come with a lot of inconveniences. It can be frustrating to fumble with your keys, look or replace missing ones, hide the spare in unreliable locations or creating doubles for guests and family members.
It's also not completely safe as anyone with an internet connection can now learn how to pick a lock. Luckily, technology developments lead to new ways of providing security and convenience through the use of digital locks.
Digital locks are becoming an increasingly popular choice for home security due to its high-tech features. But, since it comes with a wide variety of styles and features, it can be challenging to find the right one. In this article, we give you some of the most popular digital or smart door locks on the market.
Schlage Camelot Touchscreen Deadbolt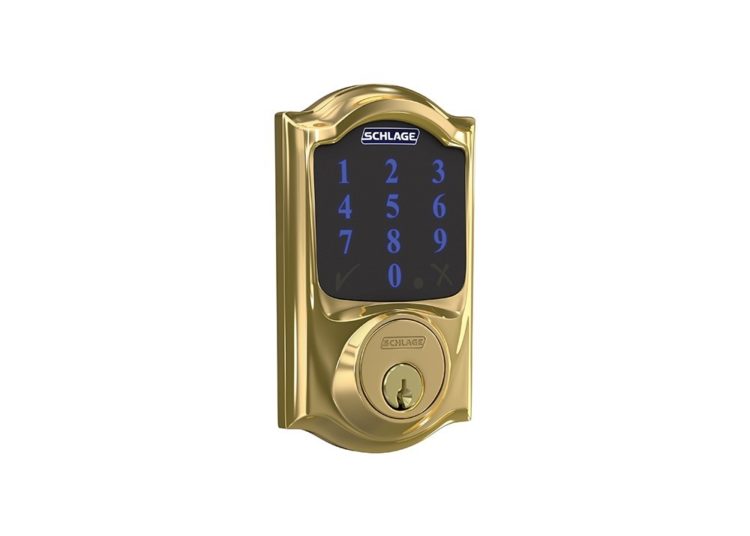 Schlage holds a BHMA/ANSI Grade 1 certification, the highest lock security rating available to the standards developed by American National Standards Institute (ANSI) and Builders Hardware Manufacturers Association (BHMA).
Products that receive ANSI/ BHMA certification undergo a series of rigorous operational and security tests to comply with the durability, strength and performance standards. When combined with the other security features of the Schlage Camelot Touchscreen Deadbolt, this makes it one of the most secure smart locks available on the market.
Besides its high rating, the Schlage Camelot Touchscreen Deadbolt includes an anti-pick shield as protection against lock tampering. It will also issue an audible alert if its built-in alarm technology senses the door being tampered with or forced open.
Its matte finished touchscreen also prevents your fingerprints from smudging to avoid using it to obtain the code. There is also an option to automatically lock the door 30 seconds after it unlocks.
Like any smart technology, the Schlage also has Z-Wave connectivity which can connect you to other Z-Wave enabled devices. When connected, it makes it possible to remotely access the lock through your smartphone device and share access codes via text or email.
The Kwikset Obsidian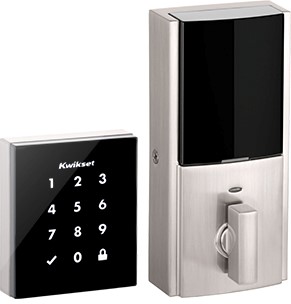 The Kwikset Obsidian is a visually striking touchscreen lock that provides a stylish and modern design and adds a touch of elegance to any door.
Besides an appearance that stands out, it's also secure, innovative, and convenient as you'll see with its safety feature called SecureScreen which prevents someone from seeing your fingerprint smudges and using it to copy the code.
Unlike other locks, the Kwikset Obsidian is also completely keyless. The only way to enter is through an access code, so make sure you don't forget your master code.
August Smart Lock (3rd Generation)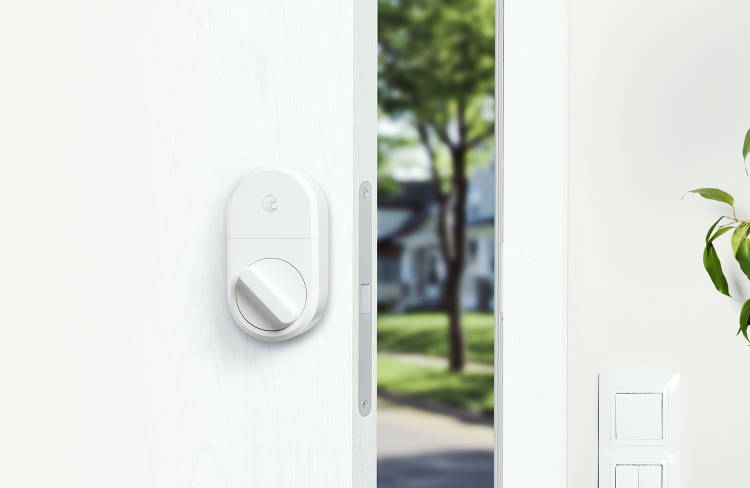 For anyone looking for a way to simplify the process of entering and leaving their home, the Smart Lock Pro + Connect is the ideal smart lock for you. There's no need to worry about fumbling with keys, worrying about locking the door when you leave the house, buying spare keys for other occupants of your home, or hiding spare keys in entirely unsafe locations.
Access to your home can be controlled through a smartphone app so you can grant or restrict access from anywhere, or you can merely give secure digital keys to guests. Through your phone, you can also track any door activity and receive notifications.
August Smart Locks are also equipped with DoorSense which tells you if the door is securely closed and locked. Although when you enable Auto-Lock, you don't have to worry about wondering if your door is locked either.
Yale Real Living Touchscreen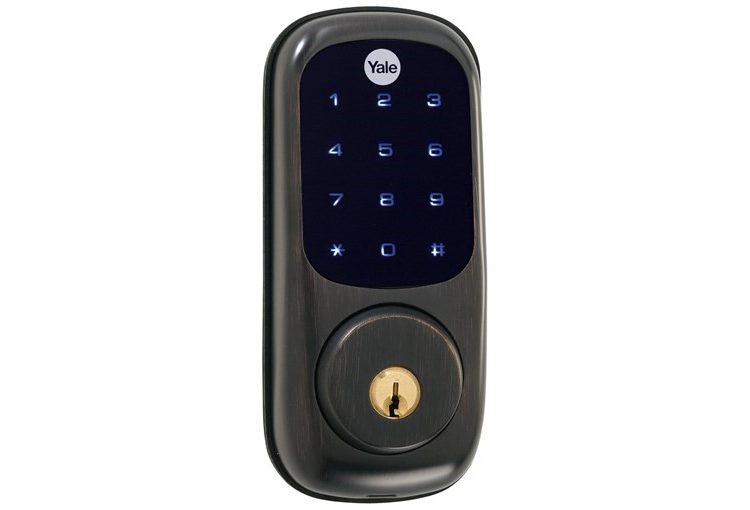 An elegantly designed lock, the Yale Real Living Touchscreen comes with a variety of features and cutting-edge capabilities. It's intuitive touchscreen operation, wireless connectivity, and voice features assure you to never worry about carrying or misplacing your keys again.
Besides a keyhole, this lock gives you more entry options such as a new touchscreen. One tap is all it takes to lock up or activate the keypad. Locking and unlocking your home will be possible through a backlit keypad or a smartphone.
As integrating smart devices at one's home becomes increasingly popular, more connected devices are being added to people's houses. These gadgets you'll see such as sensors, light bulbs, and even plugs are all packed in a Z-Wave to connect to each other. Z-Wave operates using low-energy radio waves which are a lower power alternative than Wi-fi but a much bigger range than Bluetooth.
The Living Touchscreen also have this Z-Wave connectivity which makes it just as compatible with other Z-Wave devices. When connected, your mobile device can be used to remotely control the locks as well as receive email or text notifications for the status of the lock, program guest access codes, and more.
Samsung SHS-P718 Digital Door Lock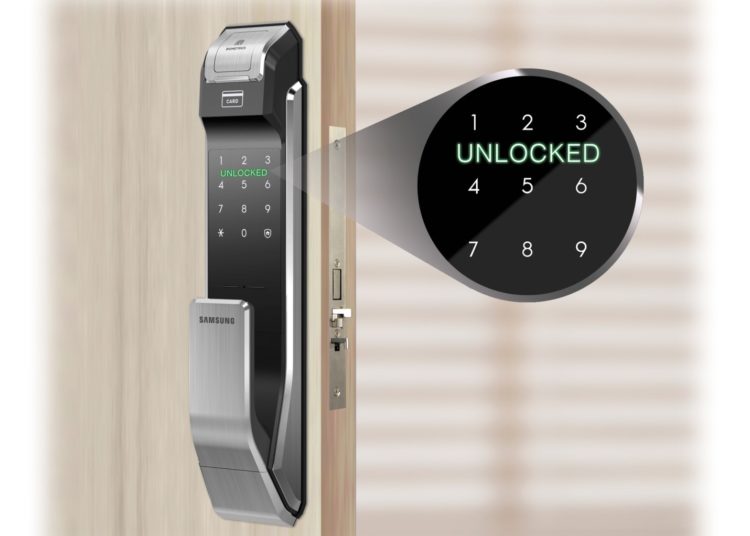 Samsung offers a variety of door locks, but Samsung SHS- P718 has a unique design of being convenient in opening the door. While common door locks need to open the door by grabbing and turning, this lock can only be opened by pushing to enter and pulling to exit. This one step push-pull handle would help facilitate a quick and safe escape in the event an emergency such as fire or earthquake happens.
The critical function of a digital door lock is making your home safer and more secure. Samsung SHS-P718 has a double authentication mode where unlocking the door requires both password and fingerprint. It also automatically notifies users on the lock status by displaying messages such as "Locked" and "Unlocked."
Additionally, this lock is also equipped with an infrared sensor (IR Sensor), an electronic device that detects infrared radiation and motion as well as measure the heat being emitted by an object, so it automatically wakes up once it senses you. Once the IR sensor detects any suspicious movements for an extended period, the warning sirens set off to ward off any unwanted guests.
Any external intruders can be prevented by its "in home security feature' by blocking door lock operations. The intruder prevention feature can be set up to burglar-proof a house even when the residents are away with a single touch.  A sign of a lock being operated from the inside during this feature would set off an alarm.
SoHoMiLL YL 99 Keyless Electronic Keypad Lock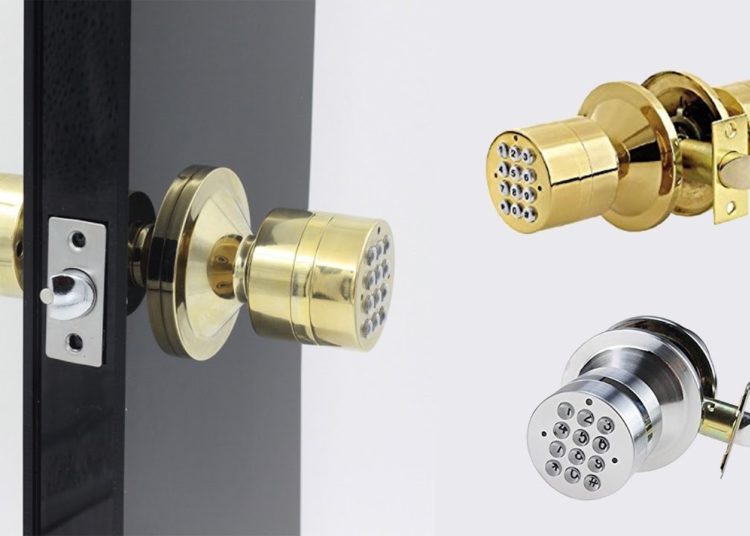 The SoHoMiLL YL 99 Keyless Electronic Keypad Lock is the perfect starter electronic lock because of its affordability and simple design. It doesn't offer Bluetooth connectivity or smart function, but it's still a highly rated lock, with a 4-star rating on Amazon.
There's an option of up to eight user-programmable passcodes, including temporary codes, which can be controlled by the master code. For added security, it will auto-lock in three seconds from the exterior. Its LED-lit pad lights up when touched which would be convenient at night. It also has a low-battery indicator to inform you when it's time to replace the batteries.
Igloohome Deadbolt 2S
Compact in size and price, the Igloohome Deadbolt 2S is a digital lock that can rival other smart locks when it comes to safety and convenience. This lock removes the hassle of fumbling for keys, replacing missing ones, and dealing with accidental lock-outs.
Although a physical key is still available as a back-up, Igloohome offers different modes of entry such as using a PIN code or a Bluetooth key on your mobile device. With the help of the Igloohome App on your phone, you can create temporary PIN codes to send to your visitors. You can even track the dates and times they enter your home.
It also offers support for Airbnb hosts who can synchronize their listing calendars with their account to automatically create PIN codes for guests.
Lots of digital locks in the market have impressive security measures and features that would leave you in awe. With any of these smart and digital locks, carrying around a physical keychain will be a thing of the past. Besides making your life easier, these locks will also keep your home safer and more secure. It's a home upgrade worth the money.
About Rithu: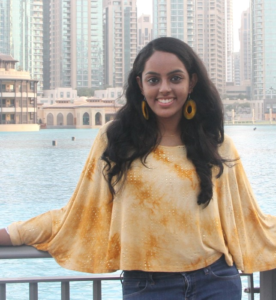 Rithumitha is a young entrepreneur who co-founded Digipasar – a startup that aims to enhance people's lives with the best use of smart technology and innovations. Her passion for design and eye for details make her strongly believe that even small things can make a big difference in what we see. This belief drives to her give her best in whatever she does. Find out more on her LinkedIn and check out their TechYourSpace platform!