You don't need boundaries when decorating your living room. There are so many options and ways you can do this provided you have the right budget. And if you do, the best place to start is to look down and see what you can do for your living room flooring.
Good thing there are as many ways you can improve the flooring if you've grown tired of the look and if it seems out of place or impersonal. So, if you're looking to give your space a new look, the living room flooring is going to be one of the best places to start.
Here are some ideas and inspiration to spark your creativity and imagination.
Go Natural
If your flooring has a dreary and boring look to it and if you're willing to make a major adjustment, then a good hardwood floor is for you. It doesn't just look good; it is amazing and will make your home a whole lot more valuable and help make more memories with your loved ones.
This is not a simple project, that's true. It may also cost you a pretty penny. But having hardwood floors is one of the goals of many homeowners simply because it does a great deal to the overall appeal of the house. This is a no-nonsense flooring remodel and should be done when the opportunity presents itself.
Although maintenance is something you should keep in mind when you've installed hardwood floors, there are plenty of ways to keep them protected so that you can do basic cleanup and not always worry about their look.
A Magic Carpet Ride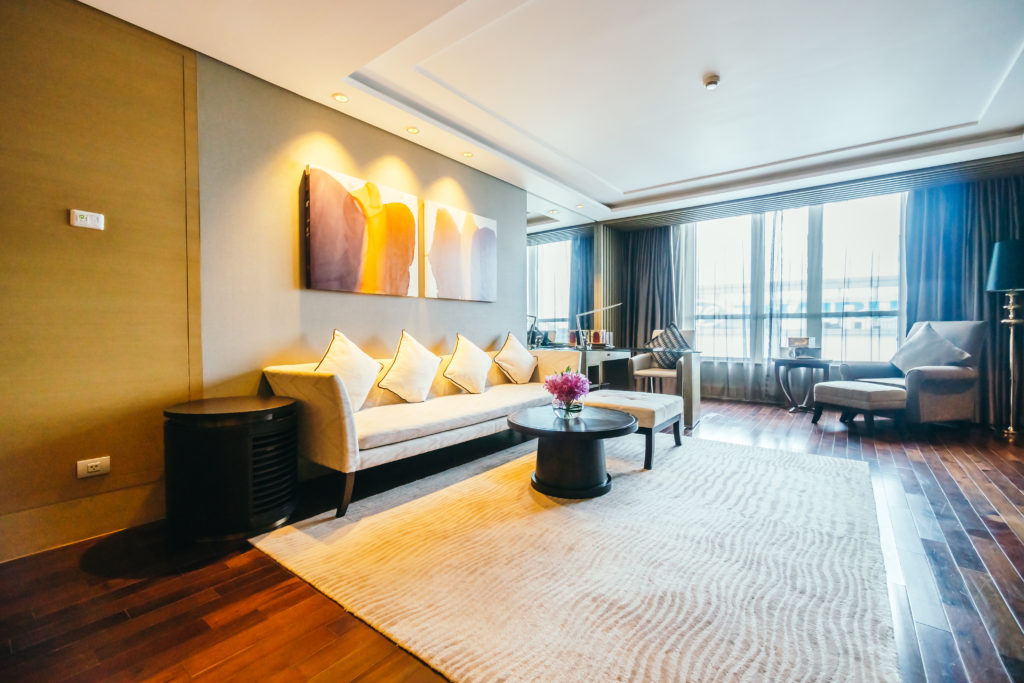 There are a lot of homeowners who can attest to the impact a carpet has done to the overall look of their living room flooring, let alone, the whole area. Having a high-quality carpet over a nice set of tiles will not cost as much but will give a good effect on your home.
As for your options, you can go for a timeless design or a more modern one. Go with your gut on this and you won't be disappointed. But for peace of mind, ask your trusted contractor for good options that will match the overall theme of your home.
Make is Shine with Ceramic Tiles
Ceramic tiles are not just for the bathroom remodeling. Ceramic tiles give any space a "completed" look. These classic materials come in many variations, sizes, and colors. You can go for these if you want to give your home a classic and sophisticated finish.
Another benefit of using ceramic tiles for your home is that they are low maintenance and easy to go. So, if these things fit your personality, then there's no reason why you shouldn't have them on your living room flooring.
Going this path will not just save you a pretty penny, but will open up a lot of design options for you. Take your time to choose a design you love on this one.
Go Slate
If you want something classy and can give a great appeal to the overall look of your living room flooring, then slate is one of those options that will immediately give a great impression.
Slate is a form of metamorphic rock that naturally gives a rugged and rustic look. It has good abrasion resistance and is easy to maintain. Just one thing to keep in mind, slate is difficult to install because of the weight and various shapes. But that makes it all the more a great flooring material, isn't it?
As for maintenance, think of having hardwood floors. Slate is not as durable as, say, granite, but it will resist most impacts. But as a rule of thumb, a good measure of care will go a long way in preserving your beautiful living room flooring.
Grand Granite
Did you know that granite comes from cooled down molten magma? That's one of the reasons it has unique patterns. Now, that's one thing you can tell your guests when they see that you have them as flooring.
Among the great benefits of granite is that they last a long time. These come in limited colors, black, red, green, grey, blue, and pink, so choose the one that fits your taste best. It's one of those floorings that scream luxury without trying too hard.
Limestone and Sandstone
These materials are derived from sedimentary rocks which are mostly found under riverbeds. They have a nice sandwiched look to them. Various minerals are compressed together to give a nice contrast and natural look to them.
One idea of using this combination, you can use limestone in your living room and then use sandstone on the porch outside. This way, you will achieve the flowing look that these are well known for.
But even if sandstone is usually used for outdoor floorings, using them inside in combination with limestone as they have a flowing effect when paired together. A proper treatment will make them suitable for indoor use as well.
Marvelous Marble
Using marble for flooring is going to be one of the best decisions you can do for your living room renovation. Not only will your floor look amazing all year long, but this material will also last a long time even with daily wear and tear.
While you may need to expand your budget to use marble on your floor, it will be a worthy investment that can significantly increase your home's value.
Concrete to Seal the Deal
Concrete flooring is highly desirable nowadays with the rise of avant-garde architecture. It is customizable and has a nice balance of functionality, finish, and design possibilities.
The good thing about this is that if your living room has existing concrete floors, you can simply expose them and apply decorative treatment for them. This will save you money and you can also lend a hand in saving the environment as well.
As with any decorations in your home, the living room flooring should reflect your personality and should fit what you have in mind so that you can fully call your house your home and make you love hanging out or coming home to it.